becoming / entstehen
a consideration of the work of Ghanaian and German artists on their projects
for "global art - local view"
video (hd, 16 min.) / 4 interviews (hd, each around 8 min.) / september 2014

cross-cultural projects with artists worldwide

"global art - local view" is a project enabling artists from two different nations to work together. The aim of the project is to develop an understanding for different cultures, inspire new ways of thinking and to establish international networks of art, friendship and respect. The project was founded in 2011 by Susanne Giese and Kornelia Wagner. In 2012, six German artists visited five artists in Ghana and formed mixed groups. Together, they created new works of art. In September 2014 the Ghanaian artists came to visit Germany and to continue their collaboration on new artworks for the exhibition at Moor-Villa, Munich, from 6th to 28th September 2014.
The artist teams and their projects realized in Munich:
Yao Ladzekpo & Nezaket Ekici:
"Impressions"
Documentary film about African Imigrants in Munich.
Jeremiah Quarshie & Vera Nowottny
"Yellow is the colour of water"
Paintings, photographies and installation about the water problems in Akra and Ghana.
Serge Clottey & Markus Merkle
"Whine your waist around the Akpata"
Installation and collages with materials and patterns from Germany and Ghana.
Amarkine Amarteifio & Micheal Straßburger
"Thinking outside the box"
Installation and mixed media about communication and cultural differences/similarities between Germany and Ghana.
I accompanied the artist during the creation process of their works from 1st to 14th September 2014 with the video camera. By selecting only moments from the video material, in which the practical work took place and assembling them, every artist-group can be seen at the same time at their respective work. The event of practical work, the faces of the artists, their tools and movements - this all tells much about the specific way of working and the understanding of art. And it gives the possibility to compare, consider and also feel what happens in the very moment of creating art.
For the exposition at Moor-Villa, the material (around 40 videoclips) was assembled by splitting the screen into four parts. The result can be seen also here on vimeo. For this website the material is distributed over the page, so that you can see even more scenes at the same time and also control which ones are played.
Additional to this montage, showing the practical part, there are interviews, which give information about the personal view of the artists on creating art and communication between the cultures.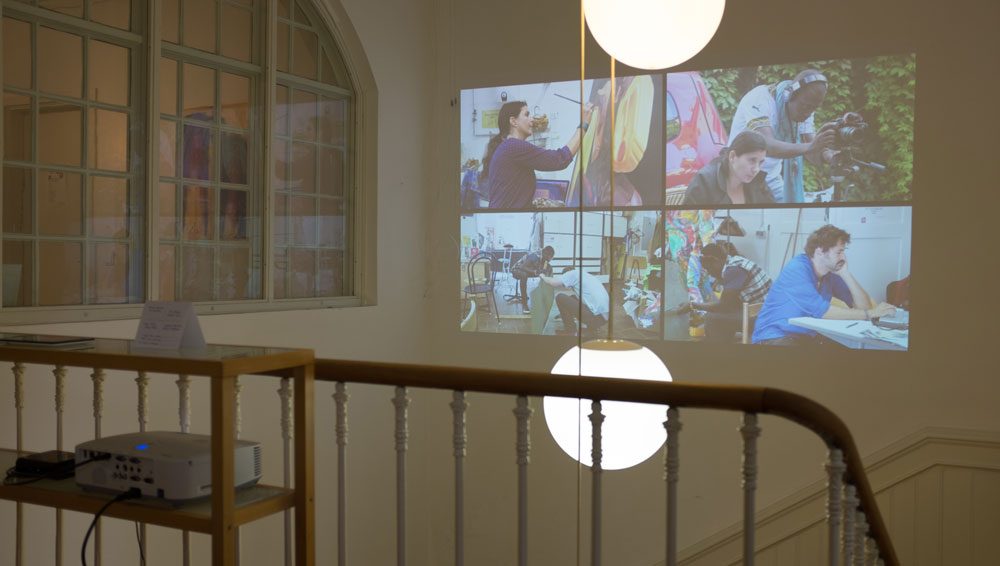 The video-installation during the exhibition at Moor-Villa, including the interviews on an interactive tablet near the projection.
The intercultural project Ghana - Germany "Art in the eye of society" in the context of "global art - local view" was implemented with the kind support of the following institutions: